Once you've imported a photo or fabric scan, click the Crop tool in the palette to display the tools for cropping.

EQ8 will automatically resize your image to fit this screen when you import it. Look at the Current Zoom Percentage to know if your image has be resized to fit your screen.  Whenever you're on the Crop tool, the zoom tools in the palette and the scrollbars on the worktable will be disabled. This allows you to see the entire image while cropping.
Use the mouse to drag the nodes surrounding the image to create the crop window. The cursor will change to indicate the cropping position. Place the mouse in the center of the crop window to move it.
The entries in the palette will adjust as you move the mouse. You can also use the entries in the palette to create the size and position of the crop window.
The Presets drop-down may be helpful in selecting the size of the crop.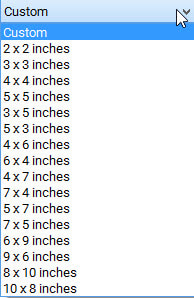 To complete the crop, click the Apply Crop button.

To start over and reset the crop window to the whole image, click the Reset Crop button.
Note
You can only select a preset option with dimensions that fit inside your image's actual size. For example, if your image is 9″ x 6″ in size, then you can only crop to a size smaller than 9″ x 6″. If you choose a size larger than your image's size, you will see thisprompt. Click OK, and change your Crop Preset to a different size.